Stand Up to Sexting: An Open Conversation for Parents & Kids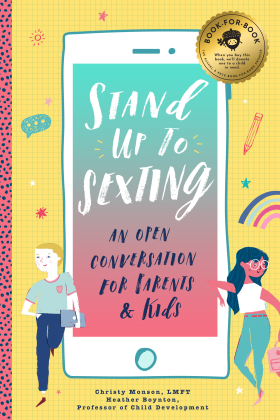 Wait, so you really wrote a book about sexting?
Absolutely! And if you have kids or work with kids, you probably aren't all that surprised. According to a recent survey, parents now rank sexting among their top-ten parenting concerns—and even higher than smoking, teen pregnancy, or school violence.
When we told one parent what we were writing, she said, "YES! I've been wanting to talk to my daughter about that, but it's just so hard to talk about. I need this book." If that sounds familiar to you, welcome! Whether you're a parent, teacher, grandparent, faith leader, or mentor, you're in good company.
Why do we need to talk to our kids about sexting? Because no one is. There are programs set up to teach kids about the adverse effects of drugs and alcohol, but no one is talking about sexting.
Sexting is linked with anxiety and depression.
It increases conflict in relationships.
It can lead to other addictions like pornography.
It's a new form of cyberbullying that can lead dire consequences.
It's illegal, depending on the state and can bring criminal charges of child pornography.
The book leads kids and parents through the problems of smartphone use with specific examples that can lead to sexting. There are questions at the end of each section for parents and kids to discuss how they can avoid situations that lead to embarrassment, shame and bullying.
The book discusses:
What is sexting?
How does it impact the brain?
What are digital footprints?
What if you feel pressured to sext?
How do you handle boyfriend-girlfriend relationships and sexting?
What is cyberbullying?
How do parents and teens develop trust?
How can we all use the internet for good?