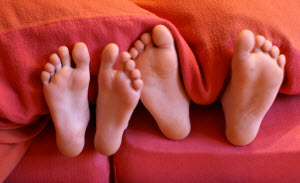 Family talk can create synergy and help everyone become the best they can be.
Family councils are a great way to bring children and parents together in a positive environment where they can discuss and solve problems. The constructive energy generated by these family discussions may not revolutionize the world, but the generation that comes from them just may.
Competition is all around us. Our society is peppered with it. Everyone is trying to get ahead of everyone else. Let's look at relationships in a more cooperative way. We're not required to have winners and losers. Everyone can win.
In families where siblings next to each other in the birth order are of the same sex, the competitive spirit is heightened.
Kayla, age 7, practiced spelling her words with Mom. Avery, her little sister, age 5, sat on the bed and listened.

"Spell new," said Mother.

"N-e-w," spelled Kayla.

"Good," said Mother. "Few."

"F-e-w," spelled Kayla.

"Blue, the color," said Mother.

"B-l-e-w," spelled Kayla.

"No," said Avery. "That's like the wind blew. The color is b-l-u-e."

"What?" Mother looked at Avery. "How did you know that?"

Avery smiled. "Just listened when she went over her words before."

"I'm done practicing." Kayla picked up her doll and stomped out of the room.

As the days went by, Mother watched more carefully. Avery knew Kayla's math facts as well as Kayla did, and Avery had begun reading Kayla's books.
This wise mother talked with both girls about their individual strengths and talent. She helped Kayla see that she was a good friend to everyone. Kayla loved people—especially children, and Mother helped her enhance this gift. Avery knew she was smart, and Mother encouraged her in her academic pursuits.
As a parent, it's great to support children's strengths, but it's also important to help them become well-rounded enough to be good at many things—even areas of their lives where they are not naturally talented. Mother helped Kayla learn to study when she was young, and she got good grades in school. She also encouraged Avery to be more thoughtful of those around her.
For Adults:
Teach your child how to study. Help him gain confidence in his ability.
When a situation like this occurs ask each child how she thinks the other one feels.
Talk about empathy.
Give your child the right to do his homework without other children present if he wishes.
Each child who comes into this world is unique and learns in her own way.
Teach them to study in the way that's best for them.
Everyone has talents of his own.
Help every child find the things she is good at.
Have a talent night for your family meetings and let each person plan their part of the program.
Highlight the child of the month and make a poster of the things he loves to do.
At the beginning of your family meeting ask each person to say something nice about everyone.
Find family service projects where everyone can cooperate.
Foster a spirit of cooperation in your family.
Don't say: Who can be the first to get their work done?
Do say: Let's go ice skating when everyone's finished their jobs.
Don't say: Who can pick up the most toys in the family room?
Do say: Sally, will you help little Jake pick up his toys?
Minimize the competition by:
Sharing with each child their strengths and help them become their very best.
Encouraging each child to learn from siblings and friends.
Allowing each child to choose to develop his or her own talents.
Asking children to help each other.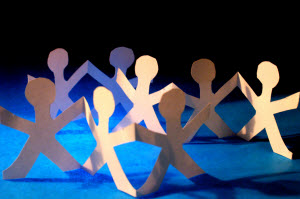 Another dynamic I have observed over the years is that when children play together, they often pickup strength from each other. If one child is a good dancer, the other child may want to learn. If the first child likes to ride bikes, the second will become better at riding also. Synergy in relationships will enhance both children's lives.
For Kids:
If school work is difficult for you, ask an adult to help you develop good learning habits.
Everyone is different. Each of us has special talents.
Think about the things you like to do.
List your talents.
Practice the things you love so you'll become better.
Give service. Find someone you can help each day.
Check out the sports or other talents your brothers and sisters and friends enjoy. Play or work with them if you like. Cheer for them at their games or concerts. If you are good at something, show other kids how to improve so they'll get better.
Everyone can win by being the best they can be.
The privilege of a lifetime is being who you are.
—Joseph Campbell